September 8-30, 2014
Are you seeking improvement in the overall health of your church?
Do you need help equipping your leaders and members?
Leaders, staff and volunteers in the areas of:
Discipleship
Evangelism
Assimilation
Revitalization
Preschool/Children's Ministry
Sunday School
Worship/Music
Youth Ministry
… are all invited to come together to be challenged and better equipped for sharpening the effectiveness of these key ministries. Additionally, a special session highlighting how your church can become a champion of children in need through foster parenting will be offered at all events.
Coming to a location near you
Clicking on a specific date/location will take you to an event page with a link to register.
---
Equip schedule
6:00 p.m.-6:30 p.m. Registration
6:30 p.m.-6:40 p.m. Welcome to Equip 2014
6:45 p.m.-7:45 p.m. Session 1
7:45 p.m.-8:00 p.m. Break
8:00 p.m.-9:00 p.m. Session 2
* All times are local time
On Mission Expo
Saturday, October 11, 2014
10:30 a.m.-2 p.m.
Immanuel Baptist Church
On Mission Expo will awaken believers to find their strategic place in mission involvement while providing connections points for ministry service in Kentucky.
Join hundreds of pastors, church leaders and missions curious Christ-followers in Corbin to:
Meet missionaries and ministry leaders from across Kentucky.
Visit displays and booths representing Kentucky missionaries and ministries.
Learn about new ministries.
Make plans for you next mission trip.
Develop personal connections with ministry opportunities.
Engage in worship and a powerful missions challenge to reach our "Judea."
Make plans to bring a group from your church. Leaders bringing a group of five or more will be entered in a drawing for a free tablet PC. Lunch will be provided.
DISASTER RELIEF TRAINING IN 2014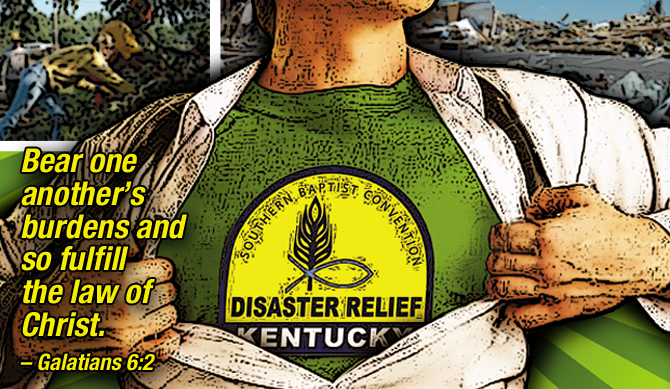 You can register online at www.kybaptist.org or by calling KBC 1-800-266-6477.
**D.R. Training/Recertification is required to be involved in a callout**
September 19-20, 2014 - Calvary Baptist Church, Glasgow, KY

January 16-17, 2015 - Lone Oak Baptist Church, Paducah, KY
February 6-7, 2015 - Russellville Second Baptist Church, Russellville, KY
March 6-7, 2015 - Buck Run Baptist Church, Frankfort, KY
April 10-11, 2015 - Lancaster Baptist Church, Lancaster, KY
September 18-19, 2015 - Rich Pond Baptist Church, Bowling Green, KY
CLICK HERE TO SEE THE LATEST NEWS
FROM OUR CHURCHES AND ASSOCIATION